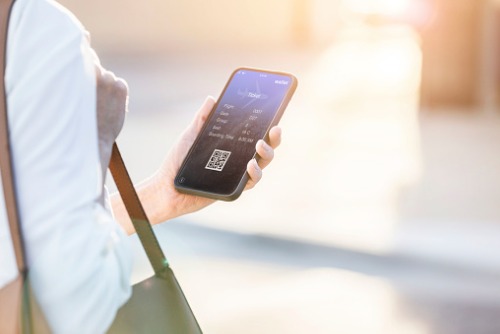 Workers traveling for business are hard-pressed to care about booking a pricey flight or staying in a luxury hotel, because their employer is the one picking up the tab. But maybe they'd care a little bit more if there was something in it for them. Something like, say, an Amazon gift card.
That's one of the offerings from TripActions Inc., a Palo Alto, California-based startup that just joined Silicon Valley's vaunted unicorn club. On Thursday the company plans to announce it has raised $154 million at a $1.2 billion valuation. The funding round was led by Andreessen Horowitz, which is investing in the company for the first time, and also included repeat backers Lightspeed Venture Partners, Zeev Ventures and SGVC.
The company aims to compete with established business travel players, like SAP Concur and American Express's travel service, through an appeal to employees' self-interest. People who book through TripActions's platform can get rewards like gift cards if they select a cheaper travel option, saving companies money.
TripActions is also increasingly using artificial intelligence in its services, said Chief Executive Officer Ariel Cohen. The new funding will be spent on advancing the company's machine learning technologies, building up its global travel inventory and trying to elevate the often difficult experience of traveling for business, Cohen said.
The company was founded in 2015 by Cohen and Ilan Twig, after they were both frustrated by traveling for work and the scant real-time support they could get when flights, hotels or rental car bookings went awry. "Flights get canceled and things happen all the time, and we are good at solving these issues -- and fast," Cohen said. If travelers miss their connecting flights, TripActions will reach out to provide an alternative path and call their hotels to ensure the reservation isn't canceled due to a late arrival.
The company now has 1,000 corporate customers, and said it is adding more at a rate of 20 percent to 25 percent each month. Those customers -- which include Lyft Inc., Dropbox Inc. and Sara Lee Frozen Bakery -- often report up to 30 percent savings on travel expenses, Cohen said.
TripActions uses AI to streamline the booking process, improve its user interface and add more and smarter options for travelers. It uses the technology to study the travel policies of each company, including its most frequently used airlines and hotel chains. At the same time, AI algorithms work to learn individual travelers' preferences, such as whether they would rather fly in the morning or at night, and if they'd rather stay in a packed conference hotel or a boutique alternative down the road.
The end result, Cohen said, is similar to how Netflix Inc. shows users the options its systems think would appeal to them. "That's the way it's saving money," he said. "Not by providing cheaper prices, but providing different alternatives."
Copyright Bloomberg News