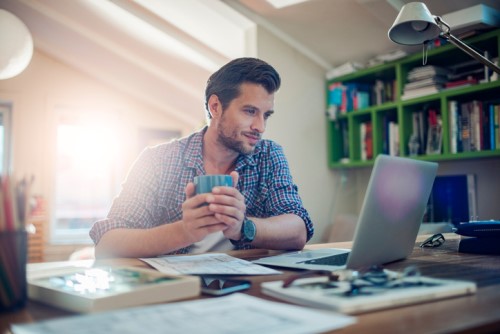 He calls himself the Space Captain.
At his command, a fleet of gig workers called Space Makers are flying about busy streets – bringing order to chaos. Literally.
What would normally be seen as clutter around the home, they organize into bright blue plastic bins, catalogue electronically, and haul safely into their hub.
Nick Padilla, CEO of on-demand storage company Kahon.ph, has found strength in numbers from a growing pool of gig workers.
In managing his network of freelance drivers and storage specialists, technology plays an enormous part, he says.
It's this combination of on-demand talent and always-on tech that allows Padilla's startup to grow. The bottom line is scalability.
"In any business, whether you're a startup or [long-established] business, the moment you try to scale, you're going to have to look at where you're spending your money, who do you really need and who can you outsource," Padilla told HR Tech News.
It's simply a smarter way of doing business, he believes.
In fact, innovators – companies making the most out of the gig economy – save as much as 29% on labor costs, according to a 2017 global study by Kelly Services.
Seven in 10 talent managers around the world employ gig workers, while a similar number believe this "flexible and fluid" workforce is one way to "navigate an increasingly dynamic, global business climate", the report showed.
For Padilla, having the support of "freelancers who are game to collaborate" gives fledgling businesses an advantage. "It's great because it sort of lowers the barriers to entry."
"You don't need to hire a general manager or an accountant or anything. You sort of hire a 'consultant' GM or 'consultant' accountant," Padilla said.
Tools for gig workers
The hands-on CEO stays connected with his team through productivity and communication tools. His technology stack includes PayPal for payments; Xero for invoicing; Trello for project management; and Viber and WhatsApp for communication.
Technology helps freelancers and employers stay on track and connected across gigs.
"To get a freelancer to want to work with me, I really try to collaborate and spend as much time with them; the same amount I spend with my own team," Padilla said.
Luarni Sim, a professional graphic designer who left his 9-to-5 office job to go "full freelance", relies on technology just as much to connect with his community.
"That constant communication with your public definitely helps in getting a wider reach," he said.
Sim has built an online business – one LEGO brick at a time. He constructs LEGO models and receives orders from around the world, especially from fans on social media.
"With improvements in technology, it's definitely gotten much easier for anyone to just hop into [the freelancing business]," Sim said.
His suite of business tools includes a well-curated Instagram, Pinterest, and Twitter account where he maintains a clean personal brand and directly reaches out to his client and fan base.
As a creative, Sim knows branding is the secret to staying competitive in an increasingly crowded social media marketing sphere – and a way for freelancers to keep to a high standard of service consistently for a global market.
"It's an issue of how accountable a freelancer would be to the client," he said.
Millennial workforce
Padilla and Sim represent a growing breed of business-savvy millennials around the world. In the US, millennials are expected to comprise 42% of the estimated 27 million independent workers set to join the freelance market by 2020, according to a study cited by Deloitte.
"This burgeoning trend is fueled by the rise of millennial freelancers, transformation of business models, and technological enablement," said Nagesh Devata, general manager of cross-border trade in Southeast Asia for PayPal.
"Freelancing is slowly shedding its image as an intermediate form of employment, and has evolved to become a viable, long-term career option for many, especially millennials who are more digitally-savvy."
"As more people consider new forms of employment, many organizations are tapping into the growing pool of freelancers to leverage this supply of talent as a part of a larger workforce ecosystem," he said.
Employers are shifting their mindsets, seeing freelancers as an integral part of their businesses rather than a "stop-gap solution," Devata explained.
Freelancers are an asset because they offer employers "fresh perspectives, financial freedom, and increased agility to maneuver through a manpower crunch," he said.