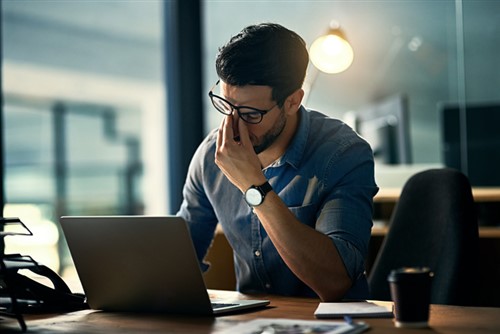 In 2007, two years after founding HuffPost, Arianna Huffington was routinely working 18-hour days. One morning, while working at home, she suddenly collapsed, hitting her head on a desk as she fell, cutting an eye and breaking a cheekbone. Sheer exhaustion was the diagnosis. It was a wake-up call for Huffington, who has since made mental health a priority for her and those she works with.
In 2016, she launched Thrive Global, a corporate and consumer wellbeing and productivity platform.
"We continue to celebrate people who work 24/7," Huffington told media. "But studies show the result of working 24/7 is the cognitive equivalent of coming to work drunk. This has been exacerbated by the digital revolution. We rightly celebrate technology, but we have become addicted to our devices and take better care of our smartphones than we do ourselves. We are alert to the fact that our smartphones run down, but we allow ourselves to run on empty."
For Rob Scott, global lead, strategy & innovation at Presence of IT, the link between mental health and technology has two aspects that need consideration. The first relates to the prevailing culture and inherent expectations of how employees operate.
"When there is a level of toxicity in the culture, with senior managers walking around the office at 6pm asking where everyone is or why 'Sarah isn't responding to my text at 10pm', then these behaviours tend to drive up an 'always-on' expectation, along with the subtly innuendoes of how people get rewarded and promoted in the company," Scott said.
Toxic cultures, he added, are detrimental to employee engagement and can lead to stress, anxiety, family dysfunction and contribute to more severe forms of mental and physical health issues.
Scott said the second component relates to the technology and software provided to employees.
"Smartphones, laptops, tables, cloud-based email and doc storage, messaging apps, system notifications, social media accounts etc all keep an employee tethered to the employer," he said. "Employers must educate employees on set expectations around their use. This is not to
say employees should not use these when it suits them, but there should be guidelines on expected responses, subtle pressurizing of colleagues to read/reply/provide and strong messaging that those behaviours are not valued."
As with most things, Scott said it's up to both employers and employees to ensure technology does not intrude unnecessarily on mental health. He suggested employers have a duty to provide a work environment – physical and virtual – which supports all forms of health and safety, but equally the employee must take responsibility and accountability for their own actions.
"When companies deploy new tools and software it's often done to deal with a specific problem and can inadvertently add more and more time-consuming activity as more 'problems are solved' – creating what Josh Bersin termed the 'Overwhelmed Employee'," Scott said.
"Many new software systems, particularly those in HR, have become 'systems of engagement' which contributes to an 'always-on' mentality. As we move towards digital work environments, it's incumbent on employees to use technology in a way that empowers the workforce to do more with less and resist throwing more and more technology at them. This requires a mindset change and should be influenced by cultural aspirations and duties to protect against ill-health."
To minimize the potential damage to mental health, Scott has seen a wide range of activity occurring. Some is related to policy – for example, companies restricting usage of their own technologies for general internet surfing or disallow downloading of apps.
"These are draconian in my view as the employee is likely to go onto some other device," he said.
Scott has also seen a push by some companies to reduce emailing and inclusion of people unnecessarily, which can contribute to hours of unproductive machine engagement, but the spare time is often then taken up by other tools, apps or devices.
"Fundamentally, the companies that have been most successful are the ones that have complete digital strategies, entwined with their cultural values," he said. "These ultimately underpin individual behavior and promote respect for other and their time."