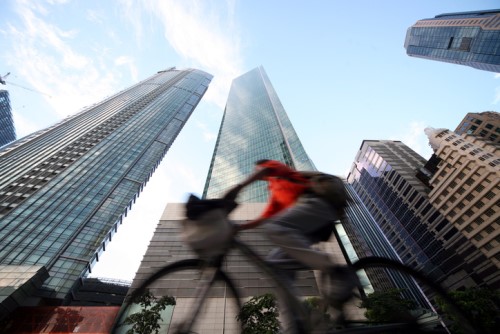 A key take-away from Deloitte's 2017 Global Human Capital Trends report was that HR leaders must help their organizations 'be digital' not just 'do digital'. This can be achieved by incorporating digital and mobile tools in HR programs, patterning their operations after digital business models, and utilizing different forms of tech-driven HR solutions and mobile apps to deliver HR services. The report suggests that 'digital HR' is a focus on the practices related to "people, work, and platforms" that follow the principles of agile organization design.
UBS Singapore's co-head of HR, Lilian Wong, has witnessed first-hand the pressure to digitalize HR's services. Below, she talks about the opportunities for streamlined processes in HR thanks to new technology.
What are some of the technology platforms and solutions that have helped to enhance HR service delivery at UBS?
In HR, we've embraced technology to make our processes more efficient, enhance our performance and delivery of HR services, and enable a smoother and more satisfying client experience to our staff. Here are some examples.
HR SNOW is a central case management system, through which different teams within HR can communicate with each other and share information, instead of having to use their own systems and platforms to track cases. For instance, if a recruiter wants to know the status of a candidate's onboarding, he/she can simply log into HR SNOW and get this information, instead of sending an email to the another team and waiting for a response from the specialist. This has streamlined our internal communications, making them faster and more comprehensive.

HRi is our global centralized HR system is used for employee self-service. It allows employees to record and edit their leave, set their performance goals for the year, provide feedback to themselves, peers and managers, search for other employees in the bank, enter and edit their personal information, and manage their direct reports – all on one platform. This system also gives HR one golden source of information for all our employees.

The A3 (Any application, Any device, Any location) system. This allows our employees to work in an agile manner and to access platforms wherever they are, which makes them feel more empowered and able to balance work with their personal lives. An employee can 'pause' their desktop session and resume their work with all their files, applications and documents exactly as how they left them – and they can access it all using their laptop, PC, tablet or phone, and work from any place anywhere in the world.

An on-line portal. This enables employees to have access to a wealth of information – from policies and process guidelines through our online Knowledge Base articles and best practices to training and education programs. While empowering our employees to manage their own data and have access to information and learning at their fingertips, these systems have also taken away a tremendous amount of routine and manual intervention that we would otherwise have had to undertake, thus enabling us to devote our time and effort to focus on higher value-add activities and more strategic HR initiatives.
How is process automation helping to free up HR's time/resources to concentrate on more strategic initiatives?
Automation has definitely made a tremendous difference to what and how we deliver HR to our employees. The use of technology to handle transactional tasks has greatly reduced the occurrence of manual errors, thus helping to lower operational and financial risks posed to the bank. Another impact is the increase in speed and efficiency of our processes, resulting in a more satisfying client experience.
Automation has also allowed us to remove ourselves from purely transactional work, and move our HR staff up the value chain. Our HR specialists are now able to dedicate more time to examine our processes from end to end so as to identify bottlenecks and inefficiencies and design improvements to existing processes, instead of dealing with transactions.
One example of this would be the integrated workflow tool we recently developed that provides an easy way for people to onboard new joiners. To cut the number of processes and the amount of time invested in onboarding, we built a one-stop shop for our managers in the business. Instead of speaking with multiple HR representatives (onboarding specialists, recruiters, HR advisors, etc), they can get all the information they want on this portal. The portal indicates the activities they have left to do, the progress of their employees' onboarding, and other information they need to take note of.
On a broader level, the evolution of technology and associated capabilities will definitely lead to greater opportunities for employees across HR. It will allow us to use solutions and data to not only make existing processes more efficient, but also look into innovative product offerings and design newer ways of delivering higher quality service to our clients. We are also looking at how Artificial Intelligence (AI) can boost process efficiencies and provide a smoother experience to our myriad of stakeholders such as clients, candidates, and employees across the various businesses.
Could you tell us more about how the process of mining data has changed due to technology?
We believe that the data we collect tells us a story. The more the data we gather, the more intricate and detailed the story becomes. In other words, examining data from myriad of sources – such as employee surveys and client satisfaction surveys – gives our HR teams a better understanding of our employees and the business, and enables them to collaborate more effectively to address their concerns. We use various data mining and analysis software platforms to collect, read and analyze this data. We also rely on our global and regional reporting and analytics teams to examine the data collected and share strategic insights with various stakeholders within HR and the business.
Our focus on digital innovations is the reason why we have a dedicated HR digital team positioned globally and regionally. HR digitalization is here to stay. In this age, we don't have a choice about whether we adopt digital innovations or not. The only choice is how well we do it.
To achieve this digital aspiration, we are embracing technology enablers to make things easier for us and better for our clients. We want to use technologies to join up our systems, automate repetitive, time-consuming tasks and simplify processes by providing entry points for users and real-time guidance through key steps. Taking advantage of new technologies and remaining current will make a real difference for us and our clients, saving time, improving quality and keeping costs lower.
Related stories:
Aviva's plan to conquer tech fears
How cognitive solutions are impacting L&D at IBM