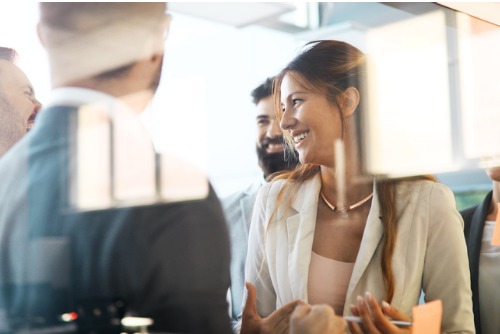 What separates successful companies from the competition? Any organization will want to achieve growth year over year, but some know how to accelerate it.
In the report "Becoming a people company," HR software group Sage outlined eight traits of companies that demonstrate hypergrowth and what you can do to work toward the same goal:
1. High-performance teams focus on people – not tasks.
Tip: Automate routine administrative and transactional HR processes. Delegating tasks to smart software will leave you free to focus on people programs such as talent development.
2. They give employees greater control of their HR information.
Tip: Open a self-service HR help desk or employee portal online. Giving workers the right tools will enable them to initiate HR processes and requests, and verify the accuracy of their employee records.
3. They augment work with smart technologies.
Tip: Look into helpful tools such as machine-learning and natural language-processing chatbots and apps to streamline and support your employees' work.
4. They hold continuous conversations on how their employees are doing.
Tip: Reach out to talent regularly in two-way conversations that engage them and monitor their progress. Also be ready to listen to their feedback.
5. They rely on hard data to gain insights on why and how a team works.
Tip: Use robust people analytics tools that will show you data on individual and team activity. The patterns will reveal areas of workforce management that need to be improved and optimized.
6. They give importance to their people's needs.
Tip: Guided by people science and other engagement strategies, listen to your people and remember their needs when you make decisions.
7. They know how to attract top talent with the right message.
Tip: Reflect the core values of your team when reaching out to prospects during recruitment. Make sure the screening process is efficient and targets the right candidate pool. A positive candidate experience will reveal much about your workplace culture.
8. They have the right leaders in place.
Tip: Build your people company with reliable managers at the helm. Talk to business psychologists, people analytics experts, and data scientists who can help steer the team.
The evolving workforce
The secret to building a high-performance team is knowing how to put people first.
"As the workforcecontinues to evolve, success will be contingentupon having full visibility of all employees, theirskills, and where they need additional support," said Paul Burrin, vice president of Sage Business Cloud People.
Sage has developed an extensive suite of HR software for acquiring, engaging, managing, and developing talent.
Related stories:
How to engineer a hypergrowth team
Employees ignoring you? Top internal tech mistakes revealed