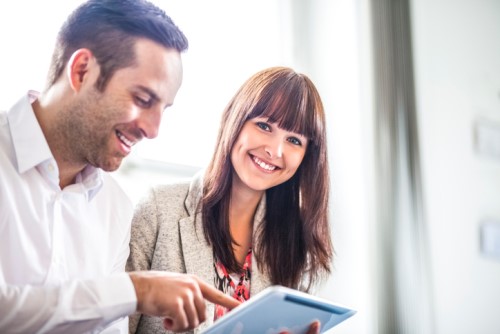 Some of the statistics found in Hootsuite's 2018 Global Digital report are staggering. Well over half the world's population now uses the internet, and a quarter of a billion new users came online for the first time during the past 12 months. People are also spending more time online; the average user now spends around six hours each day using the internet. Most of this has been driven by more affordable smartphones and mobile data plans. More than 200 million people got their first mobile device in 2017, and two thirds of the world's 7.6 billion inhabitants now have a mobile phone.
What does all this mean for HR?
Matt Handford, senior vice president of people at Hootsuite Global, said two undeniable truths emerge from the data. Firstly, from a recruiting point of view, tapping into social channels has never been more important. Secondly, HR must know their employment brand. "You must try to understand the employee experience," Handford told HRTechNews. "What deal are you offering to people currently in your organization and also to those who may be circling your organization with curiosity?"
HR also needs to be leveraging any of the countless employee advocacy tools on the market. These tools provide what Handford describes as "the opportunity for you to activate your employee base to authentically tell the story – what it's like to work here".
Handford's team is adept at using both organic and strategic content to authentically tell the Hootsuite story. The organic material is unforced; it flows naturally in the form of written and visual content on business or social issues that are of interest to people in the company. "We've all seen this in our own social feeds; it's essentially individuals telling stories," he said.
The second component is strategic content, which Handford suggests is about understanding the EVP, and knowing what the strategic goals are.
"An example for Hootsuite would be our commitment to increasing diversity and fostering inclusion in our organization globally," Handford said. "So we specifically go out and try and source examples of stories that really highlight the direction we're heading strategically, and bring that to the surface. Ideally, that content can balance some of the fun-loving employee experience type of content that tends to flow naturally and organically."
While the Hootsuite team is very active on Facebook, Instagram and Snapchat, they also naturally use Hootsuite's own Amplify as an employee advocacy tool. This allows employees to plug all of their own personal social feeds into a larger network; individuals can then decide whether or not they want to push corporate messaging through their channel. Handford said an organization "can have five to eight times the reach" by using these personal channels through an employee group – and it can also add a level of authenticity and trust. "People would much rather read and trust an article that comes through yours or my social feed rather than a corporate social push," he said.
Regardless of the channel, Handford said the key is authenticity. "We spend a great deal of time listening and monitoring, understanding what kind of content is considered the most interesting and gets shared. The biggest piece of advice I can give is to always try to be authentic. If you try too hard and you're too gimmicky it's so transparent now; people will switch off it doesn't mirror what's actually happening."
The Hootsuite HR team has also been mindful of the 'what's in it for me' element; if employers are asking employees to participate in content creation or dissemination, there needs to be something in it for them.
Hootsuite has created a Champions Program, which 'trades' professional development in areas like social branding acumen, social influence and technical skills, with participation in EVP-aligned content development. Employees essentially volunteer to a 12-month commitment as a Hootsuite Champion.
"It's a double win for both of us – our employees are helping us to create great content and then allowing us to use their social reach, while they receive additional skills," Handford said.
"It brings it back to content – if people love the content, if it's authentic and real, then you will have no problem with people engaging. If you try and push through corporate messaging then there are countless ways you can slow your adoption. I think something like the Champions Program is a powerful way to start."
Handford is looking to his CMO colleagues for where technology will impact HR work in the future. He suggests customized content provisions exist already and these will proliferate in the future.
"We're starting to experiment with some of those at Hootsuite where if you come onto a website via a social channel and you're willing to input some connected information about what kind of things interest you from an employment point of view, then we're able to push and curate content for you to view about our organization. If you're really interested in corporate social responsibility, for example, we'll be able to tailor content for you. What will that do? It'll shorten the window of time taken about decision-making."
Related stories:
Why social recruitment is a 'no-brainer'
Social recruiting by the numbers