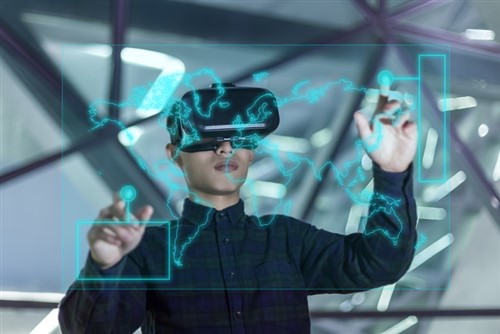 Not long ago, the office lobby served as a glorified limbo for job candidates waiting patiently to be called in by HR and led through to the hiring manager's office.
Those in-person interviews were the only chance candidates had to get a glimpse of a company's environment and culture.
Beyond the waiting area lay the great unknown.
Virtual tours
Enter the era of immersive technology. 3D graphics design and virtual reality are transforming how we imagine our space – yes, even our office space.
VR office tours, or virtual tours, are revolutionizing the way businesses introduce their space and employer brand to candidates.
And, when candidates are impressed, they become more engaged throughout the recruitment process: 40% of people who view a virtual tour leave their contact info when prompted, according to US software company Concept3D.
Now, you can immerse yourself in the visual landscape of your dream company. The virtual tour presents the work environment through stunning visuals.
"Two to three years ago it became clear to us that virtual and augmented reality would become part of the increasing demand for dynamic and authentic experiences," Robert Johnson, Concept3D's vice president of sales, told HR Tech News.
'As real as being there'
Concept3D specializes in visual and immersive experiences of an environment that "feel as real as being there" – an interface that many of today's talent, especially millennial talent, look for in their everyday interactions. Even in their job application.
LinkedIn research shows that the top challenge millennial jobseekers have during recruitment is the "difficulty visualizing what working at the company would be like".
This is how a virtual tour of your workplace opens a door of opportunity, literally. The experience goes beyond wowing candidates.
"During the onboarding phase, this is most often used by industries where safety is core," Johnson said. Virtual tours enable a new employee to learn the ropes – to "familiarize themselves with all the safety protocols and potentially hazardous areas before ever actually being exposed in real life to them."
Across multiple locations
Virtual tours are ideal for global companies sourcing talent across locations, Johnson explained: "This can be useful in generating interest in job postings and also farther into the hiring process."
"Before flying someone cross country for the in-person interview, the virtual tour can be part of both showcasing and creating a fuller picture of the role and location."