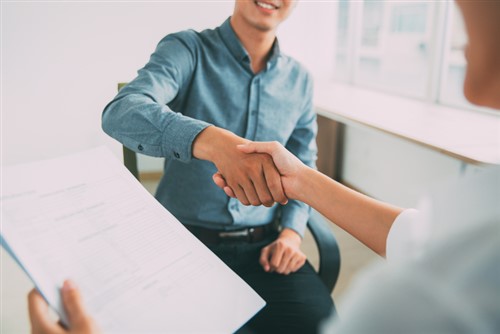 One in three businesses today are deploying artificial intelligence to bolster their recruiting efforts, a 2017 survey by Deloitte revealed.
Those who are leading the way are reaping the benefits of early adoption. The first measurable outcome of AI in recruiting is that companies are cutting down time to hire and matching the right talent to the right role.
AI in video screening
The Hilton Worldwide hotel chain, for instance, needed to screen candidates for customer-facing roles, but it was spending 42 days on average to find the perfect hire, twice as long as the industry average.
The interview stage was a choke point in Hilton's hiring process. But, instead of relying on traditional interviews, the company switched to AI-enabled video screening.
Even without a human recruiter to sit through the interview, the company could screen more than one candidate at a time.
The video tool developed by HireVue records the subject's one-on-one interactions with the AI, which then picks up verbal and non-verbal cues from the candidate as part of the evaluation. Recruiters can then watch the recordings and assess the candidate.
The entire application process at Hilton, which used to take about 1.5 months, has been reduced to only five days.
AI in candidate sourcing and ranking
Other recruiters are using a combination of tools. When Nick Mailey, vice president of talent acquisition at Intuit, needed to hire more than 6,000 employees, he and his team turned to the premium AI-powered service of LinkedIn Recruiter.
The platform doesn't just source any set of candidates; it is designed to tap specifically into a pool of high-quality prospects who are also most likely to respond to and engage recruiters. It's all in the matching.
Apart from using AI to find talent, Intuit also built its own candidate profiling and ranking tool that uses an algorithm to compare prospects against the profiles of the company's top performers.
By understanding the attributes of an ideal candidate, Intuit has sifted through more than 13,000 developer profiles and identified the top 1%. The company has cut down a 62-day candidate screening process to just 30 days.
"The value of machine learning is in prioritizing talent," Mailey said. "We're now really good at eliminating candidates we don't want."