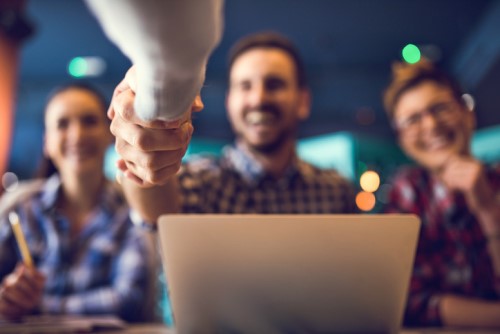 In the midst of today's talent war, recruiters cannot afford to waste time and energy going after the wrong candidates.
For those looking to improve their hiring strategy and upgrade their tools, HR Tech News has put together a list of today's most promising recruitment technologies.
While the HR tech space is filled with a wide range of recruitment tools, the industry hasn't fallen short on innovative players.
This month's selection features tools that not only aim to speed up candidate sourcing – they also help pinpoint and screen the best talent, verify credentials, and predict behavior quickly.
Apploi – hiring hourly workers with one app
Retailers and restaurants looking to fill multiple positions with by-the-hour workers turn to Apploi, the all-in-one mobile-first recruitment app. The tool sources hourly workers, matches them with job openings, vets the most suitable, and communicates with them with an in-app messaging tool.
Recruiters no longer have to post job ads manually across career sites. The AI that powers Apploi automates job posting across different online platforms. While users are busy running their business, the app goes to work, screening applicants and preparing results for when the user logs in again. The tool is also designed to manage a high volume of applicants.
Uber is among Apploi's happy customers. The ridehailing service said it expedited its candidate screening process by tenfold with Apploi.
DeepSense – 'AI with emotional intelligence'
DeepSense claims it can predict the behavior, attitude, and personality of an applicant by using just their email address and social media profiles. Going beyond the CV and credentials, the tool presents a candidate's psychographics. The engine pulls up a multifaceted profile of the candidate to include predictions of their teamwork skills and need for autonomy, as well as their role fit and background.
The platform works by collecting publicly available information on social media channels and other online references. It relies on AI, machine learning, and natural language processing, as well as behavioral science, psychology, and sociolinguistics.
FullCandidate – easy verification
FullCandidate is an employee verification platform looking to mainstream blockchain technology and combine it with more conventional tools such as video screening. The vetting process includes a review of a 30-second self-recorded clip of the candidate. Hiring managers can use it to assess the candidate's demeanor.
The screening process, however, doesn't just rely on the candidate's self-assertions. It uses blockchain to check the validity of their credentials, from government-issued IDs to facial recognition registry, to employment and educational backgrounds.
"Once the candidate's credentials are verified, they don't need to be verified over and over again. This saves the candidate and the hiring company a lot of time, money, and resources," Kumar Bandaru, CEO and founder of FullCandidate, said.
Fortay – hiring for culture addition
Fortay claims to reduce time-to-hire from the average of 52 days to just 13 days. The company draws heavy focus on culture analytics during recruitment.
"Talent is matched based on values fit against a company's cultural fingerprint for true culture addition," Marlina Kinnersley, co-founder and CEO of Fortay, told HR Tech News. This supposedly results in hiring efficiency of up to 80% and increases diversity in the talent pipeline.
Cybersecurity firm DarkMatter, one of Fortay's clients, was aiming to incorporate a compatible new addition to the team but was unsure how to codify 'cultural fit' and use empirical data to find the right hire. It turned to Fortay and, in a span of 12 months, hired more than 300 "exceptionally talented people," according to Gavin Smith, director of talent acquisition at DarkMatter.
Related stories:
Social recruiting by the numbers
Fitting talent around technology - or vice-versa?