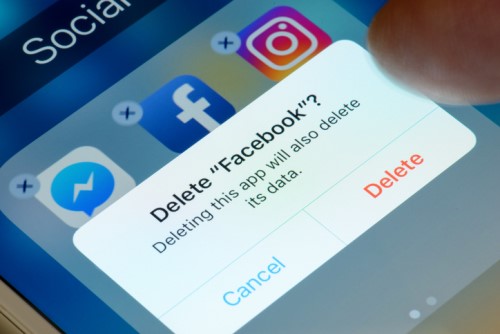 HR Tech News provides the latest updates on vendor financing, mergers and acquisitions, partnerships, and major product launches and updates.
31% of tech workers plan to #DeleteFacebook account
Thirty-one percent of tech workers say they will delete their Facebook account over concerns their personal data may have been harvested by third-party data miners, a survey shows. Team Blind, maker of the chat app Blind, polled 2,600 IT workers through its proprietary work chat tool designed to give employers anonymous feedback. Of the 806 respondents who plan to take part in the #DeleteFacebook movement, 50% work for Microsoft; 46% Snap; 40% Uber; 38% Google; and 34% Amazon. Only 2% are employees of Facebook. The survey ran on March 20-24 in the wake of the Cambridge Analytica scandal. Cambridge Analytica is a data analytics firm that allegedly tapped into Facebook profiles without authorization. It reportedly used the data to target users with advertisements.
Military veterans to receive career coaching as project managers
Vets2PM and Veterans2Work, two support groups for US military veterans hoping to re-enter the workforce, have teamed up with The PMO Squad to establish a new talent pipeline of project managers. The PMO Squad provides professional project management services, and is looking to have mentors who can guide veterans through formal training and career coaching. "That military experience makes us natural project managers is groundbreaking news for veterans unsure of how to transfer their skills," said Eric A. Wright, CEO and founder of Vets2PM. "We are confident that our mentoring program helps veterans to apply their skills and attain meaningful careers."
Survey firm CultureIQ merges with CEB workforce survey and analytics division
CultureIQ, a culture management software company, has agreed to merge with CEB Workforce Surveys & Analytics (WS&A). The CEB division will be divested from research and advisory group Gartner and acquired with financial backing from tech-focused private equity firm ParkerGale Capital. CultureIQ entered the employee culture and engagement survey market as a SaaS vendor in 2013, while WS&A has nearly 50 years' experience providing insights for corporate strategic planning. The new entity will operate under the CultureIQ brand.
Benefits group OneDigital acquires Providence Insurance
Atlanta-based employee benefits company OneDigital Health and Benefits has purchased Providence Insurance, a health benefits brokerage. Providence will continue to serve the same client base with technology offerings, compliance services, and benefits-related resources from OneDigital. Managing nearly US$4.5bn in premiums, OneDigital serves 35,000 corporate clients.
SoFi and Korn Ferry team up to offer career development tools
Finance group SoFi and global consulting firm Korn Ferry will provide almost 500,000 SoFi customers with free access to the KF Advance career development platform. SoFi Career Solutions leverages KF Advance career enhancement tools, which include career coaching, resume reviews, and online assessments. The open access program was tested in the first quarter of 2018, tapping on 350 SoFi members. Pilot participants reported an aggregate satisfaction rate of 96%.
Vibe HCM names Susanne Bowen as CEO
US-based HR software specialist Vibe HCM has hired Susanne Bowen as CEO. Bowen has more than 30 years' experience in sales and general management at technology groups, leading four SaaS companies as CEO. She specializes in enterprise technology and human capital management. "Susanne's deep experience leading customer focused Software-as-a-Service companies in our industry will be invaluable," said Roberto Muñoz, Vibe HCM's executive chair.
Related stories:
HR Tech roundup
HR Tech roundup
HR Tech roundup