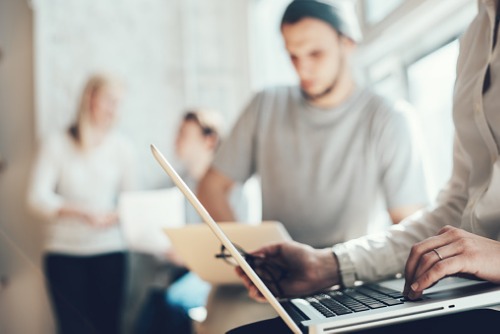 Recruiting for a fast-growing company can send managers in a frenzy to find top talent fast. Agility is key – but for the HR leader at one of Toronto's hottest startups, speed in hiring is only one aspect.
Brett Reed, talent and people leader at SnapTravel, has a holistic view when it comes to finding and developing talent for a hypergrowth team: HR has to be strategic in building up the company's human capital. With that mindset, he turns to technology to understand SnapTravel's workforce.
"It's time for HR to get up and step into the 21st century," he said. "Take advantage of modern technology."
SnapTravel is one of the top-grossing travel booking apps on the Facebook Messenger ecosystem. It combines the convenience of chatbots with the customer care of human travel agents.
This philosophy – of empowering employees with tech – permeates through Reed's management style. He believes recruitment, onboarding, and other monotonous HR functions can benefit from automation to free up managers for other more crucial aspects of the job.
For Reed, this strategic shift includes understanding what the workday of employees looks like and learning about their tools. Since 70% of SnapTravel's workforce consists of engineers, he delves into their world by outlining some basic questions about the tech they use.
"When it comes to high-performance technical people, [I ask] what's your stack? What technologies are you using? Why do you use those technologies? How do you use those technologies and how do they interact?" Reed said.
To build a hypergrowth team, Reed immerses himself in the work of his peers. While he did not originally come from a strictly technical profession, he believes understanding the language of an engineering-driven workplace is important in leading and nurturing SnapTravel's global, high-performance, and culturally diverse team.
"When you surround yourself with these high-performance, hypergrowth individuals, it's amazing to see how you're able to grow and perform as an individual as well," he said.
Reed represents the new breed of HR leader who harnesses the power of technology to HR's advantage while retaining a human connection between the management and employees. His advice to HR leaders who are unsure of their digital strategy: "Just dive in."
"Sit with the engineers. Sit with the developers. Sit with the designers. Listen to the types of problems they are solving," he said. "When you actually, truly embed yourself within the team, your eyes will truly open up."
Catch Brett Reed's talk at the HR Tech Summit Toronto on June 26 & 27.
Related stories:
What sports analysis can teach HR
Why content is king for employee advocacy
Why social recruitment is a 'no-brainer'