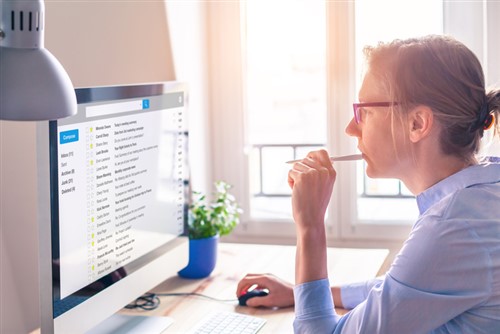 Recruitment is a lot like speed dating – an awkward 10-minute exchange during which you're desperately trying to come off as competent and likeable as possible. And yet, uncomfortable as it may be, at least in an interview situation both parties actually want to be there.
Passive candidates are another matter entirely. They comprise of 75% of global job candidates, making up the top tier of superb talent.
Picture that one demographic you've always wanted to reach out to and engage with. But, try as you might, they never pick up the phone. They simply ignore your messages and refuse to email you back. What's an HR leader to do?
Consider this – 84% of candidates would think about changing jobs if a company with a stand-out reputation made them an offer. In fact, 58% of employees check out job listings every single month – probably from their work computers. The key to nailing down the slippery passive candidate pool lies with HR Tech – specifically how you're approaching your emails.
Language processors
Language processors are a great way of looking at the tone and words you're selecting in your emails. This goes further than marketing analytics, which purely measure click-throughs and opens, and instead delves deeper into how your phrasing is being interpreted. This is a great way of eradicating any words that could be being read in the wrong way.
Use gender sensitive terms
The days of 'Dear Sir/Madam' are dead. Do your research – personalize your emails. There's nothing more off-putting than receiving an email that's positioned badly. There are tools in the market designed to find the subtle biases in job ads, many of which are available for free online. Simply copy in your email and let the algorithms highlight where your language is letting you down. They even make suggestions.
Know your audience
Remember – you're essentially trying to sell yourself to a disinterested party, so approach this situation from a marketing perspective. Fifty-nine per cent of B2B marketers say that email is their most effective channel in terms of revenue generation. Email marketing is actually 40 times more effective than Facebook and Twitter combined. If you can mimic their email structure and apply it to your recruitment outreach, you're sure to see results pretty quickly.
Drafting the text
Once you've used all the HR technology to your advantage, it's time to start drafting your email. And whilst there's no singular 'definitive guide' to composing a recruitment email, there are a few simple guidelines you can stick to.
Perfect your subject line. Get to the point. For example, trying using 'Job opportunity with [company name]. Or, 'Add to your skill set with this unique job opening'.
Be succinct. Passive candidates don't have the time or inclination to read through long-winded emails.
Don't sound robotic. Write in a conversational manner, as if you were emailing an acquaintance or a colleague. Being overly formal immediately raises red flags to suspicious candidates.
Don't spam. It's essential that you're respectful and courteous with your emails. Never continually send candidates the same email again and again – it'll just turn them off forever and potentially ruin your recruiter brand.