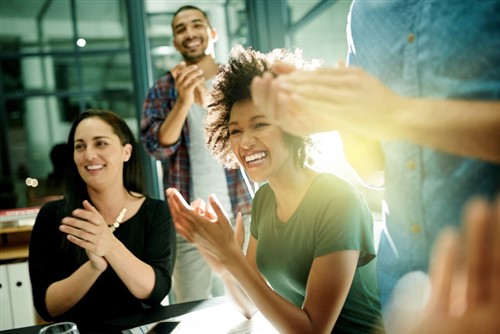 A positive workplace culture doesn't happen by chance – it's designed by choice.
For the founders of Asana, the team collaboration software company, building a fair and inclusive workplace means engineering the culture for success right from the start. It's part advocacy, part business strategy – and the commitment has been paying off.
Asana has a 4.9 to 5.0 star rating on job review site Glassdoor, with 100% of reviewers giving their seal of approval for the work of CEO Dustin Moskovitz.
Investors have also lent their support to Asana. The team recently received a capital boost of US$75m in a funding round led by Al Gore's Generation Investment Management.
'Collective of peers'
The notion of work-life balance, mutual respect, and trust aren't just ideas on a drawing board.
Programs such as AsanaWomen, Gradient, and Team Rainbow put social groups – women, people of color, LGBTQIA – which have historically been underrepresented in the workplace, at the helm of projects and leading the dialogue.
It's a win-win for the US software company as research from Deloitte has found that a diverse and inclusive team is "more innovative, engaged, and creative in their work".
Inclusiveness is also closely linked to involvement. Asana is redefining both the traditional management structure and the loose startup culture.
"Too much management blocks creativity and the ability of teammates to reach their potential, while a completely 'flat' structure keeps people from growing as much as they could," said Moskovitz. As a result, Asana offers people a balance of creative freedom and support for growth.
In the company's parlance, employees aren't viewed as subordinates but peers, and management makes it a point to listen closely to what this "collective of peers" has to say.
When Moskovitz and co-founder Justin Rosenstein built Asana in 2008, they not only concerned themselves with writing code for their software – they also took time to establish the company's ethics or 'culture code' as a blueprint for how peers should interact.
"We decided to treat culture as a product," Rosenstein told Fast Company.
Like any product under development, culture involves collaborators who are invested in the process. During testing, the team may come across bugs, such as when a member resigns. The team re-examines every possible misstep by undertaking the 5 Why's exercise.
The tech industry has often been criticized for its lack of workforce diversity, rampant sexism and ageism, and intense work hours that, to industry observers, Asana's conscious effort to be "radically inclusive" seemed novel. Glassdoor, Entrepreneur, and Fortune have, at different points, hailed Asana as a great workplace.
As a Silicon Valley startup now beginning to scale up and make a name in the SaaS industry, Asana offers generous perks not unlike those at Facebook and Google, the former companies of Moskovitz and Rosenstein respectively.
"Even if companies are just out there to make money, they should still invest in culture," Rosenstein said. "Treating each other well, being respectful to each other, building a culture you actually want to live in, these are all things that make people happier and, in the end, more productive."