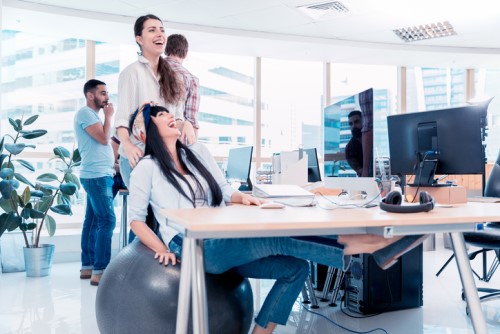 The competition to attract and retain the best tech talent has grown fierce even for companies outside of the IT industry.
Top-tier specialists, such as senior web developers, QA engineers, and e-commerce analysts all the way up to the CIO and CTO, command salaries that range from US$110,500 to $245,500.
Four in 10 companies, however, said they have missed out on hiring the best because they cannot afford candidates' expected salaries, according to the 2018 Robert Half Technology Salary Guide.
For businesses that find themselves in this situation, looking to nurture their current employee base with an attractive rewards and recognition system is the best option.
Analysts believe the first step to promoting a tech-savvy work culture is by rewarding employees – who demonstrate a flair for innovation – with equally innovative rewards.
1) Career development
Employees who bring their A-game to work often view opportunities for career advancement as the most important reward for a job well done. In the tech sector, 52% of professionals express interest in career growth early on in their job hunt. Upskilling top performers through cutting-edge training programs is a win-win for both employer and employees.
2) Relaxing environments
While Alphabet, Apple, and Facebook may have the budget to build sprawling campuses or, in the case of Amazon, indoor tree houses, other companies can provide areas for relaxation even in a traditional office. Space for yoga, meditation, and even massage therapy can help employees decompress amid the demands of their workday.
3) Flexible scheduling
When employees are allowed to structure their schedule around their most productive hours, the heavy lifting gets done at optimal times. Flexible scheduling empowers top talent to decide when they can best accomplish their tasks. The reward suits those who already have efficient time and project management skills.
4) Remote work
Similar to flexi scheduling, a remote work setup can help motivate employees who prefer to work independently outside the office supported by their choice of tools. Remote work can raise productivity beyond the confines of the cubicle. While some companies already allow offsite work as a standard benefit, others offer it on a case-by-case basis.
5) Technology stipends
To support innovation, some companies have started allocating tech stipends to help employees build up their own selection of productivity tools. Employers can either subsidize the purchase in full or split the cost with the user. Stipends can range from US$35 monthly to a one-time subsidy of up to $2,000. The reward encourages wider adoption of the latest tools and greater IT proficiency among talent.
Related stories:
How Asana built an inclusive workplace
Inside Salesforce's 'digital Ohana'