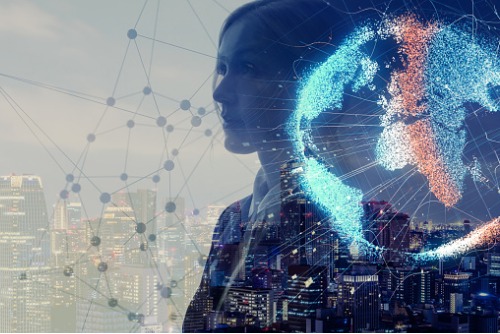 Alexander Graham Bell famously said: "The day will come when the man at the telephone will be able to see the distant person to whom he is speaking."
Back as early as 1876 people saw the opportunities that technology presented. Even so, robotics and automation are evolving at an increasingly rapid pace – overhauling every aspect of our lives completely. But if technology is taking over the outside world, then HR technology has completely catalysed the people function.
As HR practitioners, you're probably sick to the back teeth of hearing about AI, about big data and automated job boards – so we're not going to mention them. Instead, we set about to uncover the more unknown, as yet undiscovered, HR tech trends. Take a look at our predictions below and let us know your thoughts.
Blockchain HR
Blockchain is making waves across the business world, revolutionizing fraud detection and helping organizations validate transactions safely. But what exactly is Blockchain HR?
Soumyasanto Sen, co-founder and partner at People Conscience, thinks the main difference it will make is in regards to part-time employees.
"There are a lot of employees in the world right now who identify as freelancers, many of whom work cross-borders," he told us. "There are a few challenges for freelance workers; the first being authentication - the verification process for the pay structure is a lot more complicated.
"The second challenge is contractual. Every country has different laws and policies, meaning you'd have to have a collection of contracts for each of the cross-country employees. Blockchain provides Smart Contracts technology which will make these challenges more manageable, both with the contracts and the freelancer payroll."
Paying employees using Bitcoin or Ethereum has led to the cryptocurrency market boom in the past few years. There's a huge demand for it from workers and freelancers who want to be paid using this modem, just as HR's interest in blockchain has also begun to peak. All these functions make more secure and quicker contracts and payment to the workers.
Time to start reading up on blockchain, we think.
Harassment reporting technology
With an emphasis on sexual harassment and abuse in the workplace being wholly eradicated, organizations will naturally be looking for emerging HR technologies that can help facilitate the process. One such offering comes from Callisto, a not-for-profit firm that using technology to help combat abuse.
Founder Jess Ladd was sexually assaulted when she was in college, and when she tried to report the abuse she recalls the process being "as traumatizing as the assault".
It's essentially a sort of 'whistleblowing tech'. Callisto used technology to connect victims of the same perpetrator to identify repeat offenders.
With such inspirational technology already on the market, it stands to reason that HR departments across the world will be adopting initiatives like this sooner rather than later.
Rise of the CPXO
Technology is now more focused on the employee experience rather than employee engagement. Companies are using tech to measure how well workers connect to both their peers and their organization's core values. With this rise in 'experience'-orientated technology has come a new role – the chief people experience officer (CPXO).
We caught up with Nahal Yousefian, CPXO at MEC. She revealed to us how her belief that the HR function was become detached led her to reinvent the system.
"I realized that there was this huge space that HR should be filling but wasn't," she told us. "And that centres on organization design and organizational capability. We need to be more focused on helping build organizational architecture so that it's simple, intuitive and responsive in its thinking."
What HR Tech trends do you predict? Tell us in the comments.