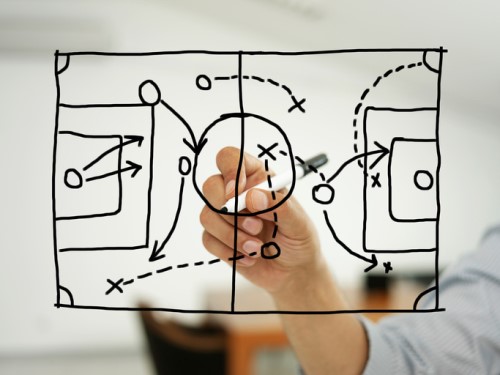 With its stories of triumph and teamwork amid high-pressure environments, the sports world offers HR and business leaders insights into leadership and team development.
"There's incredible transparency in performance within sports," said Vancho Cirovski, director of culture and talent management at Red Sun Farms. He is also the owner of Peak Consulting, where 80% of his work delves into the culture and dynamics of high-performance teams.
Cirovski, one of the speakers at HR Tech Summit Toronto 2018, talked about how he applies organizational network analysis (ONA) to team analysis. ONA is a research technique that uncovers where and how information and influence flow within a group.
"I've been doing most of the work in the sports arena," Cirovski said. For him, transparency through analytics affords insight into group dynamics. His focus on sports seems only natural: his family is prominent in the world of soccer.
"If you watch a sports team, it's a confined field, it's got rules and regulations, and you know what you're supposed to do and not do," he said. "As a fan, you observe these things and you see, well, OK, that person didn't do what they were supposed to do. Or did they?"
The balance of trust
High performance doesn't just depend on one superstar. Organizational structure can't be taken at face value. In a group of 25, for example, a highly dependable network of four or five key people emerges to drive success, he said. ONA identifies who those people are.
"Some of them may be your formal leaders, [while] others don't have that direct authority," Cirovski said. "What are they doing? They're the key to unravelling some of the mysteries of performance."
By tapping into the real emergent leaders in an organization, Cirovski believes ONA has the potential to build incredible teamwork.
"Who really holds influence and impacts performance is not all that clear if you take a look at organizational structure," he said. "But if you can access the network, then you'll know where the opportunities are, and [identify] the people who are actually able to influence and able to integrate to get things done."
Together with scholar and fellow ONA expert Valdis Krebs, Cirovski has developed a survey method that asks no more than five questions to reveal a 'network map'. While ONA can focus on a variety of factors, Cirovski's work zeroes in on relationships: how to build trust and ensure reciprocity.
"If we have to have trust in organizations in order to be successful, then you have to have a balance of trust," he said. "The questions that I ask are really about, 'who do you talk to about what's going on in the organization?'"
When the level of trust is equal between members of an organization, communication tends to flow much more freely. "What you want to build is symmetry in relationships in organizations," he said.
Related stories:
What to do with 'too much data' in HR
How to lead with data
Confused by analytics? Take Pfizer's prescription