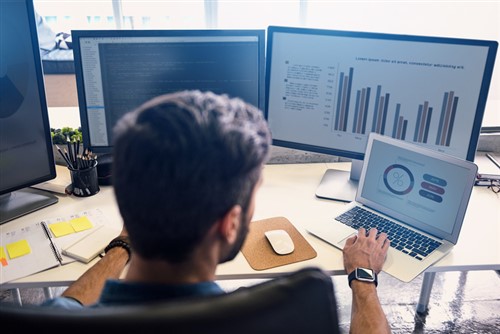 "I did not know this field would become this famous."
From his engineering job at General Motors, Arun Chidambaram has risen to become one of the pioneers of HR analytics.
In fact, when he started dabbling in knowledge management, the concept didn't even have a name.
When Pfizer enlisted Chidambaram as global head of talent analytics, the entire discipline had just been born. In this elite team, he cultivates the pharmaceutical's own brand of talent analytics.
Beyond data science
During a podcast interview with author and futurist Jacob Morgan in April, Chidambaram gave a crash course on a field so diverse that it pulls inspiration from behavioral economics and clinical psychology as much as it does engineering and data science.
In Pfizer's experience, questions concerning human capital management can be answered following multiple steps not unlike the methodology of a scientific experiment.
The research method begins with a key business question, crystallized through in-depth discussions and the creation of a conceptual model. What follows is a rigorous series of data collection and measurement, hypothesis testing, analysis and consultation, and storytelling.
In 2015, Pfizer's HR team mapped out the evolution of its Global Workforce Intelligence (GWI) unit, which – in a period of two years – had laid down the company's groundwork of advanced analytics.
GWI not only crunches numbers, evaluates programs, and forecasts trends. It also provides Pfizer's other business units, not just HR, with evidence-based consultation, and makes sure to 'tell a story' when sharing the results. The work is described as a "blending [of] qualitative and quantitative perspectives across the HR function," Pfizer said.
For Chidambaram, analytics isn't simply a numbers game. Sometimes data science takes a back step when it comes to sensitive topics such as employment law and data privacy rights.
"There are certain things that, mathematically, may sound right but, ethically, [do] not," he said. In these instances, the talent analytics team defers to legal, HR, and other business analysts.
"You can be cocooned inside your data science thinking, but for the qualitative side, you'll need to listen to your HR folks, to your consumers," he said. "Listening is critical [for you] to be successful."
People analytics examines different aspects of human capital management so that leaders can make better informed decisions that create the best business value.
Chidambaram believes an organization shouldn't simply be concerned about how to do analytics but about why.
"There are some places where reporting is done and you come up with a cool graph; it adds value to them and that's all they need. On the other extreme, you would see all sorts of network analysis on the future of work and AI," he said. "Don't be disappointed if someone is doing network analysis and you're not able to do it."
The bottom line: whatever your talent analytics project may be, do it only if it creates value.
Interested in talent analytics? Listen to Jacob Morgan's full interview with Arun Chidambaram on The Future Organization.