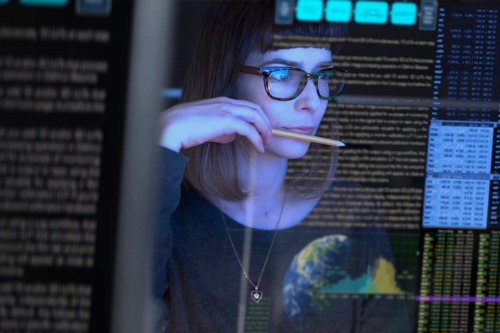 From electronic time tracking to email monitoring, employee surveillance has become as widespread and integral to the modern workplace as the smartphone has been in our everyday lives.
More than one in five companies worldwide (22%) reportedly track employee movement data, according to a 2018 study by Gartner. Employers do so for obvious reasons: they want to keep track of productivity and keep outsider and insider threats to security at bay.
But there's a different form of surveillance now emerging, which goes beyond simply monitoring who's slacking off and who's violating protocol. One that promises to help – and even predict – when employees are feeling overwhelmed.
READ MORE: The dark side of smart machines
Monitoring employee behavior
Behavioral analytics – one of the many subfields of people analytics – can purportedly be used to detect burnout and, ultimately, promote better health and wellbeing in the workplace.
The tools used in the data collection can be as simple as a wristband or an electronic badge; wearable devices that can measure vital signs and pick up on speech patterns or sleep quality.
"By employing behavioral analytics, companies are able to detect when employees' behaviors breach individual 'norms' and can identify when people might be acting in a way that suggests they're overworked," said Saryu Nayyar, CEO of global security analytics firm Gurucul, in a recent study on employee monitoring.
Nayyar's team examined people's perception of workplace monitoring tools and found 62% of respondents aren't concerned about working for employers who actively monitor their staff.
The finding suggests workers are now beginning to accept the idea of workplace surveillance – even if it means allowing tools to dive deep into their most personal details such as their heart rate or their history of insomnia.
'Smartphone psychiatry'
Behavioral analytics represents one of the intersections of I/O psychology and emerging technology. Throw in artificial intelligence and you'll get apps designed to predict episodes of depression, anxiety and angst by 'reading' certain signals.
Apart from wearable devices that collect behavioral clues, smartphone usage may also offer a wealth of information about a person's mental and emotional health.
A movement called 'smartphone psychiatry' is slowly gaining momentum in the US. Among its proponents is Dr. Thomas Insel, who once helmed the National Institute of Mental Health.
Dr. Insel has profiled about a thousand smartphone 'biomarkers' for depression. Anything from a person's word choice to their typing speed may provide a clue to their frame of mind.
Researchers are continuing to investigate the efficacy of these tools in detecting physical, mental and emotional stress and exhaustion.
But the most effective health and wellness tech solutions share the simplest features, according to Pooja Chandrashekar of Harvard's School of Engineering and Applied Sciences, who studied mental health apps for the smartphone.
The best options, Chandrashekar said, yield high user engagement through gamified interactions and usage reminders, and offer self-monitoring features on a simple interface.
These behavioral prompts are said to facilitate greater usage, which in turn allows people to stay on track with their health and wellness routine.
Speaking of emerging HR technology trends, don't forget to book your ticket to HR Tech Summit NY here.