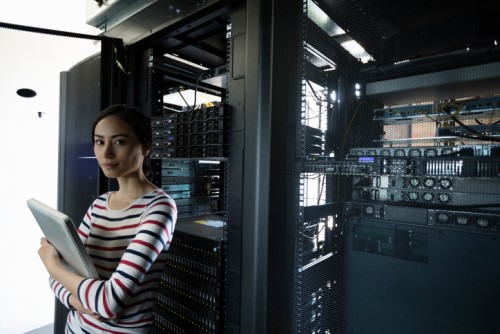 For every dollar a man earns in Silicon Valley, a woman makes less than 85 cents.
However, when comparing men and women who have similar backgrounds and perform similar IT roles, the disparity diminishes almost completely.
A 2018 report by PayScale revealed – under a controlled pay gap – that women earn 99 cents per dollar.
Are salary differences then the only metrics in the gender pay equity issue?
Analysts have suggested examining other variables essential to bridging the uncontrolled wage gap, and determining: what's behind the gender-based disparities in tech?
Apart from addressing general pay differences, experts are asking how well women are actually represented in the IT industry and what positions they hold.
Women in STEM
Overall, women represent only about three in 10 workers in the tech industry, PayScale noted in its 2018 study.
In a closer analysis of the STEM disciplines, the sciences have registered the highest number of female workers. Women made up 42.2% of full-time workers in the life, physical, and social sciences sector, based on 2016 figures from the US Bureau of Labor Statistics.
In computing and mathematics, however, women accounted for only a quarter of the workforce.
They occupied even fewer jobs in architecture and engineering. Only one in five engineers (excluding mechanical engineers) were women.
| | |
| --- | --- |
| Sector | Women workers (%) |
| Life, physical, and social sciences | 42.2 |
| Computing and mathematics | 25.2 |
| Architecture and engineering | 14.0 |
Source: US Bureau of Labor Statistics (2016)
'Position gap'
Aside from men generally outnumbering women in the industry, there is also the apparent occupational segregation of men and women into different IT roles.
A 2015 study by IT and engineering career site Dice.com showed men were more likely to occupy technical roles, as they seemed to be "gravitating to software engineering, programming, [and] architecture."
Women, on the other hand, were reported as more likely to perform administrative, project management, and the 'softer' tech roles, according to Scot Melland, former CEO of Dice.com.
Pay differences, presented in the report, revealed that "the higher paying tech positions are more commonly held by men than by women," giving rise to what the researchers called a 'position gap'.
The study suggested looking into "why more of these positions are not being filled by females" – and whether these position gaps were the result of personal choice or institutional bias.
Related stories:
Inside Starbucks' racial bias training [VIDEO]
Is your recruitment software biased?
Too old for a tech job? Think again