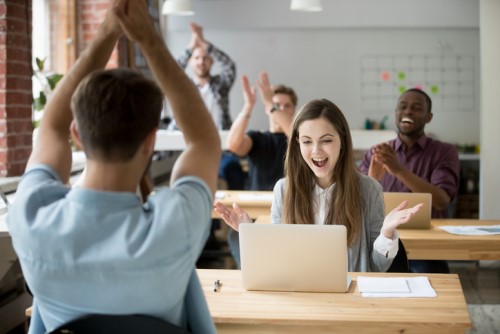 As Steve Jobs once said, innovation distinguishes between a leader and a follower. In today's tech-mad world, it's no surprise that in order to stand out, employers are turning to increasingly advanced tools to enhance the worker experience.
One area ripe for development is reward and benefits. The 'reward tech' space is only just being enhanced, with start-ups finally starting to see the ROI on a stellar perks plan.
Tom Short, president of Kudos, told HR Tech News: "Organizations that are sticking to old methods and methodologies around employee recognition and who are afraid to invest in new systems and philosophies because they cannot measure the impact and ROI of a having a better culture, enhanced morale, or engaged team will find themselves at a disadvantage in the competition for talent in millennial era."
That fear of innovation has held HR back for too long – and whilst HRDs may be increasingly comfortable in automation, there's no need to stop there. HR Tech News found the top three reasons you should be investing in reward and recognition tools.
Hyper-personalized plans
A recent report form MetLife found that 58% of employees want a benefits system that molds to their individual needs, whilst 48% want a platform which can adapt to family structures. The message is clear – a one-sized benefits plan simply doesn't cut the mustard. Implementing a benefits plan that allows workers to pick and choose their own perks is one way of buying into the new 'Netflix-style' approach to HR. There are plenty of tools out there which offer online portal access to employees in which they can select their own benefits from month to month.
Virtual healthcare
Perhaps one of the most intriguing way technology has impacted upon benefits is in the case of virtual healthcare. Platforms which offer workers immediate access to medical professionals across the world – not only does it cut down in absenteeism, but it also offers a support to employees who have serious concerns about an ailment.
International workforce
With increased freelancing and employees choosing to work remotely, your staff base will most likely be scattered across the globe. Such a disparate workforce means that HR has to be extra diligent when it comes to protocol – most importantly, benefits plans. Investing in a durable HRIS with additional reward features means that none of your employees re overlooked. The propensity for human error in rewards is prevalent in all HR departments – and if one worker believes they're being treated different from another, you may have a lawsuit on your hands.