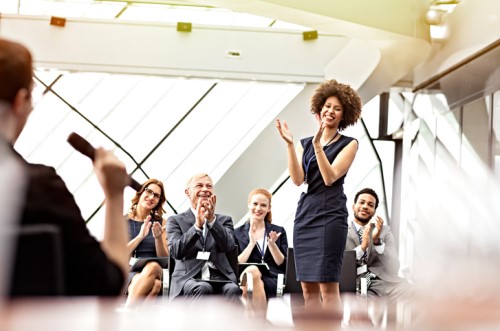 When your learning and development (L&D) program becomes a seamless part of employees' regular workflow, you know you've chosen the right tools, experts have pointed out.
Jeff Weber, senior vice president of people and places at L&D tech company Instructure, recommends tools that are intuitive and have an appealing user interface.
Similarly, for HR tech industry analyst Josh Bersin of Bersin by Deloitte, L&D should consider 'experience design' – highlighting user-friendly tools to create a positive learning experience. Learning in the digital age is not so much about instruction as it is about flow, Bersin said.
The latest learning tech solutions for corporate training are being shaped by technology, from artificial intelligence to Big Data to virtual reality. These L&D tech trends put people first:
Micro-learning
Corporate training can now be customized into modules or tutorial videos, and integrated into a trainee's schedule without disrupting work. BetterUp offers 'bite-sized' 30-minute video- or phone-based trainings for micro-learning. The company also uses an algorithm to match the right mentor with the mentee. These algorithms help tailor the program according to the trainee's requirements.
On-demand content
The Netflix-style access to training content allows workers to pull up materials, such as slideshows and videos, in their own time and at their own pace. Mindflash takes this one step further by enabling the client's training managers to build a custom library with modules and quizzes created in-house. Trainees only need to open the app to access the custom content. Other names in the on-demand e-learning market include Cornerstone OnDemand, Udemy, Udacity, edX, Coursera, Skill Pill, Pluralsight, Codecademy, and lynda.com.
Immersive 'hands-on' training
The use of virtual, augmented, and mixed reality to train employees is gaining ground in sectors where it would be dangerous or costly to deploy people in the physical world. Walmart, for example, turned to VR-based training specialist STRIVR to recreate scenarios, such as holiday sales, to teach trainees how to handle large crowds. Another VR company, VirTra, specializes in police and military training by simulating high-pressure situations.
Improved feedback systems
Data-driven corporate training gives employers and employees hard data on performance to track the company's return on investment. Bridge by Instructure not only provides an avenue for continuous manager-to-employee feedback sessions. The L&D app also takes data from the one-on-one meetings and other activity on the platform, and visualizes them into an Employee Timeline. It gives managers and employees a "longitudinal view of performance, complete with milestones, tasks, areas for improvement, and future goals".
Related stories:
The shifting reality of employee training
E-learning apps offer 'bite-sized' corporate training
World Economic Forum IT skills drive kicks off