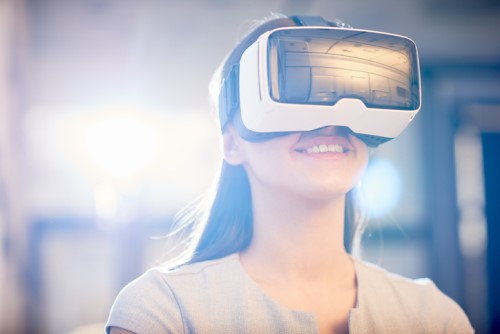 Forget classrooms, whiteboards and paper tests. St John Ambulance Victoria has just launched the new virtual reality CPR training, "SJx".
The new training course is an "Australian-first" and will accredit the Provide Cardiopulmonary Resuscitation certificate to Victorian students using real-life 360-degree video scenarios and an integrated questionnaire.
The tech showcases two real-life scenarios for students to respond to using 360-virtual reality; one scenario takes place in a carpark, while the other is at a childcare centre.
Indeed, research has shown that students who are trained through virtual reality answer questions correctly 82% of the time, which is eight per cent higher than the average respondent.
Moreover, learning through virtual reality has also proven to increase overall student reaction time by 20% and achieve a retention rate of 75%, significantly higher than the 5% associated with the traditional lecture style.
The training can be delivered via two methods; a one-hour delivery for four students using virtual reality or a two-hour delivery for a group of 20 students using immersive learning.
Consequently, this will cut up to two hours from the traditional time it takes to deliver and undertake CPR training.
CEO of St John Ambulance Victoria, Gordon Botwright, acknowledged that this training is especially appropriate because people are becoming increasingly busy.
This is why St John Ambulance Victoria has significantly cut down the time it takes to deliver a first aid course – from almost half a day to just one hour, while still ensuring that students get the same high-quality learning experience, he said.
Moreover, research taken from other overseas virtual reality CPR training courses has shown a significant increase in bystander response rates from just 58% to 82%.
In Victoria between 2017-2018, 6,434 cardiac arrest patients were attended to– the most cardiac arrest cases ever. Of those, 9% of patients survived and those who received bystander CPR recorded a higher survival rate than those who didn't.
"Through the roll out of this immersive course, St John Ambulance Victoria can continue to equip our students with the skills and real-world scenarios they need to improve cardiac arrest response times and ultimately, survival rates," said Botwright.
Australian virtual reality developers "Start VR" worked closely with St John Ambulance Victoria to develop the SJx technology.
SJx training can now be undertaken at St John Ambulance Victoria's training headquarters or delivered to small and medium sized groups of up to 20 students by St John Ambulance Victoria trainers at workplaces around Victoria