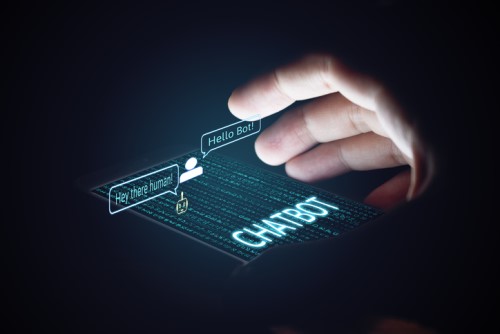 Efficiency is the name of the game when your recruitment team is inundated with hundreds of applications and you're looking to fill positions fast.
Indeed, high-volume recruitment is one of the areas of HR that is undergoing a revolution today thanks to the advent of artificial intelligence chatbots.
A 2018 Korn Ferry study showed nearly seven in 10 recruiters believe using AI and Big Data to source candidates enables them to tap into 'more qualified' talent pools.
Smarter chatbots on the rise
AI recruitment bots, however, aren't your average (read: glitchy) Messenger bots that rely solely on question-and-answer templates until they hit the end of the conversation just as they've been designed.
AI chatbots are more powerful in that they are programmed not only to keep the conversation flowing with a pre-set Q&A – but also to read into the candidate's free-flowing natural-language responses.
For instance, when a candidate is asked to record a 90-second video or audio clip describing their skills, strengths and weaknesses, the AI chatbot automatically picks up keywords or phrases from the reply. These keywords can help determine whether the candidate should move on to the next phase.
For every response a candidate keys in during the pre-screening, the AI that powers these next-generation chatbots is already at work parsing out data from the natural-language responses.
READ MORE: The hottest HR tech investments of 2019
Cosmetics company L'Oreal, for instance, uses two types of recruitment tools. The first is the chatbot Mya, which manages pre-screening with basic questions on visa requirements or availability.
The second is the AI software Seedlink, which reportedly poses open-ended questions and evaluates the candidates' response.
"We have been able to recruit profiles that we probably wouldn't have hired just on their CV. Like a tech profile for marketing, or a finance profile for sales," Eva Azoulay, L'Oreal's global vice president of HR – Talent Acquisition, told CNN in April.
Other AI bots meanwhile scour the web and social media to find information publicly available about the candidate. The information is included in the data points used to gauge the candidate's suitability for the role.
The AI solution DeepSense, for instance, gathers online data about a candidate to assess their learning ability, attitude and other characteristics, and compares the data against the profiles of successful candidates or employees in the past.
Bots are reshaping HR practice
HR leaders are adopting AI chatbots to streamline tasks that would otherwise be painstaking and time-consuming for human recruiters to handle.
Industry experts Deep Paudel, Devon Satnick and Rory O'Doherty will be discussing bots, AI and robotic process automation (RPA) at the HR Tech Summit in New York on Nov. 6. The session will cover:
Analysis of the latest HR technology and its impact on business strategy
How bots and RPA automate complex tasks and data
Various types of skill sets required to work with, configure and maintain digital robots
How to train HR teams to focus on higher-value services and successfully managing the transition
Get ahead with the latest information on HR technology – save 20% off when you register for HR Tech New York with code: FOHR