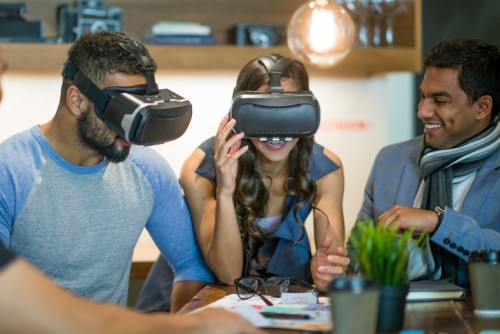 HR Tech News provides the latest updates on vendor financing, mergers and acquisitions, partnerships, and major product launches and updates.
Anti-sexual harassment training to use virtual reality platform
Equipped with virtual reality tech, US enterprise training company Vantage Point is planning to bring immersive training against sexual harassment to corporations. The group has snagged seed funding of U$1.3M in a round led by The Venture Reality Fund, a group of investors who target enterprises in immersive and intelligent computing. Early adopters of the VR-based training include organizations in the tech, consumer goods, and education sectors.
Mobile app for retail job hunters launched
US software developer 3Pillar Global has partnered with retail jobs platform Capango to deliver a job matching app powered by machine learning. The iOS and Android app aims to simplify recruitment by pairing jobseekers with employers in the retail industry, and doing away with the resume-screening phase. The Capango platform highlights the applicant's skills and abilities, otherwise known as their 'powers', and their preferences and interests, also known as their 'passions'. Applicants can also upload a minute-long video pitch in place of a resume.
Talent management specialist ClearCompany receives US$60m capital boost
ClearCompany, a US talent management software group, has scored US$60m in growth capital financing aimed at fostering growth and expanding its partnership with payroll specialist ADP. The software company also plans to hire additional team members to help with its Advanced Talent solution. ClearCompany specializes in applicant tracking, new hire onboarding, and performance analytics.
Neuroscience-based HR tech startup meQuilibrium raises US$7m in series C funding
After a recently concluded series C funding of US$7m, HR software startup meQuilibrium is expanding its product portfolio beyond employee stress management. The US company's total funding is at US$21.3m. It now offers data and analytics for talent optimization as well as soft skill and upskill development on top of its array of neuroscience-backed stress management solutions available online.
Glint launches Cross-Program Intelligence to streamline employee feedback analysis
Branded as a people success platform, US software group Glint has launched Cross-Program Intelligence. The feature is designed to collate data from disparate surveys to generate a more complete picture of the workforce. "Connections between different aspects of the employee journey, between survey measurements and business outcomes, and between HR programs and end results, emerge effortlessly from the data," said Goutham Kurra, chief product officer of Glint.