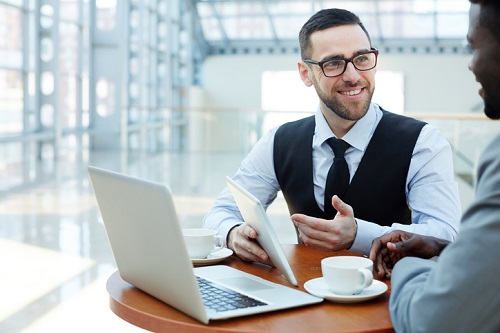 HR transformation can take on different forms depending on an organization's 'digital maturity,' or the degree by which they 'embrace disruption.' The process introduces emerging technology, from shifting to the cloud to adopting artificial intelligence.
But, for many, the speed and complexity of transformation can be daunting. For HR and IT leaders, it's often a matter of whether to build or buy enterprise tools to support their digital strategy.
On one end of the spectrum, companies with the time, money and talent to create proprietary software have the benefit of designing and building their platform from the ground up and according to their business needs. Think IBM and Microsoft with their suite of office productivity tools.
On the other end, there's everyone else: companies that are shopping for a range of third-party applications, from human capital management (HCM) software and HR information systems (HRIS) to specialized tools such as payroll solutions and applicant tracking systems (ATS).
What many fail to realize, however, is that a third option exists for those looking to customize their own HR apps but are faced with limited resources.
READ MORE: Why does HR keep buying the wrong software?
That option comes in the form of low-code app development – ideal for HR leaders who already have a vision of the apps they want to build and are ready to jumpstart their projects.
What is low-code app development?
Traditional application development requires knowledge of programming languages and hundreds of hours of hand coding.
But, in the case of low-code app development, the user (even a non-IT professional) simply accesses a platform where they can drag and drop components – such as entry fields, text boxes and graphics – and lay out the items just as they see them on the computer screen. Building the app is almost as easy as creating a PowerPoint slide.
For instance, HR teams creating an employee database can just open a template in the low-code app platform and customize the fields visually without having to write any line of code. And, with the help of the IT department, HR can integrate their new platform into an existing HR software.
Should HR opt for low-code app development?
From employee directories to onboarding documents, from training solutions to payroll and benefits tools, the possibilities of building company-branded HR apps are endless with low-code dev.
Building user-friendly apps is, of course, both an art and a science – and it takes months, even years, for businesses to polish their platforms. However, low-code app development eliminates the need for extensive coding in order for teams to keep up with agile business processes.
With app templates ready at their disposable in a What-You-See-Is-What-You-Get (WYSIWYG) environment, HR and IT managers only need to sit down and plan the features, functionality and design of their HR app and visualize it as it is being built.
By cutting down the time spent on coding, developers can focus on testing and rolling out the product to their end users: the employees.