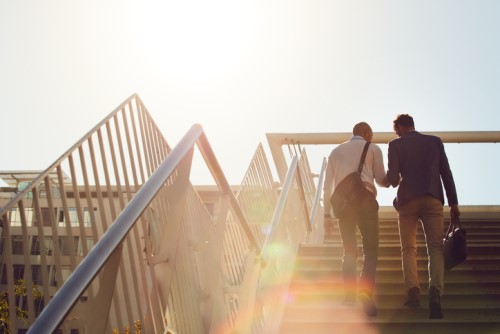 Steve Bennetts of Qualtrics explains why plotting the entire employee journey is vital to understanding each stage in the employee lifecycle
Many employers and human resources (HR) teams are moving towards a lifecycle approach to structure, understand, and measure employee experiences. These approaches capture important employee feedback at every stage of their employment lifecycle with a company, from recruitment to exit. Lifecycle tracking helps business leaders learn where they need to boost staff morale and address issues, as well as where employees experience the greatest reward. These insights are critical to managing employee job satisfaction, especially given the improved quality of work and increased productivity that engaged employees deliver.
Collecting data from employees to track job satisfaction is nothing new. Surveys on office culture, task enjoyment, and other employment-related topics are commonly distributed throughout offices and workplaces. Most of these surveys ask respondents to rank a statement from 'least correct' to 'most correct', or from one to five, however, these surveys only scrape the surface when it comes to garnering meaningful information about a company's employees.
Standard annual or semi-annual surveys fail to account for the fact that everyone is at a different stage in their employee journey. This means that the survey results will be based on important variables managers might never know about and, therefore, can't address or explore. Traditional workplace surveys are unlikely to capture the personal experiences that shape key outcomes and responses, or indicate the different onboarding, training, or work experiences driving individual employee responses.
Plotting the employee journey
The more recent phenomenon of journey mapping is classically associated with customer experience (CX) tracking programs. However, business leaders who realize the necessity of providing positive, rewarding, and satisfying work environments to their staff have begun tracking various stages of their employees' careers, length of duty, and job progress, to make important decisions about employee experiences. In the same way CX professionals map out consumer journeys to identify pain points along the path from browsing to purchase, HR teams can plot entire employee journeys to understand how each stage impacts employee experience as a whole.
Workplace journey mapping and lifecycle approaches to employee experiences are more realistic, personal, and informative than traditional sources of information gathering. Organizations need to recognize the differences between each employee and value their separate personas. Organizations should identify their employee segments to better understand their different needs and backgrounds. For example, a member of a company's IT team will have different work experiences than a marketing director. Organizations need to establish guiding principles for employee personas, to establish a path for quality feedback, and align relevant insights with each staff member's employee journey. Feedback mechanisms should meet employees at each point of their lifecycle, so they can communicate their experiences in training, career progression, and more, over time.
It's also likely that different stages in this journey will be managed by different teams, including recruiting, training, and onboarding teams. It's important different teams use consistent measurement approaches to measure the experiences of different groups of employees. This could include, for example, eNPS and open-text follow-up questions, or five-point scales. It's impossible to compare written responses to numeric values, so, leaders who want to grasp an understanding of employee experiences individually, or as a whole, need to enact a shared and compatible value system for gathering employee data.
Automating the employee feedback process
In terms of workload, HR teams shouldn't bear the brunt of learning more about employees' experiences. While delivering increased feedback, automated processes can save HR teams work, automatically sending feedback forms to each employee at the right times for important milestones.
Automated processes can also collate and analyze data, meaning HR teams have more time to work with business leaders to interpret survey results, and determine where employees' best moments and experiences can drive positive change.
Missing out on critical data
Journey mapping employee experiences at stages from recruitment to onboarding, development and retention, and even employees' final stages at a company, can help business leaders understand what matters the most to their employees. This information can lead management to repeat or emphasize these moments and features, so employees are supported, engaged, and motivated to perform to their highest potential.
Businesses need to prioritize their employees, and learn from their feedback. Data collection needs to take into account that each employee is unique, with different backgrounds, work experiences, and needs, and that replicating employees' most valuable moments will deliver value to the company.
Failing to consistently track employee sentiment across different progress and lifecycle points means organizations are missing out on accessing critical information about the most meaningful moments in employees' work lives, and are thus unable to enhance these areas of reward and positivity, or improve experiences which rated poorly. Workplaces need to evolve and change to keep employees interested, motivated, and productive, and leaders need the right data to fuel the right changes.
Steve Bennetts is a business psychologist and senior principal consultant of employee experience at Qualtrics.