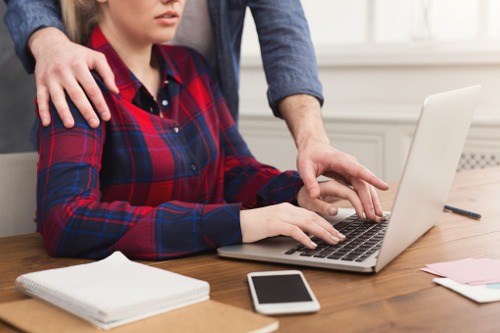 Job-hunting apps in Japan are increasingly exposing potential candidates to sexual harassment and assault.
Businesses and universities are scrambling to address the growing problem of company employees victimising female students who approach them for one-on-one meetings on career advice
The scale of the problem is not fully known, but work-related sexual harassment remains a widespread problem in the country.
"There are many cases in which victims don't come forward with their experiences," said Chisato Kitanaka, an associate professor at Hiroshima University and a specialist in sexual harassment issues. "Companies and universities are failing to grasp the grim reality of the problem."
In January, a student at a private university in Tokyo sought help from the career centre as she was receiving numerous messages from an employee of the company she wanted to join.
They had met at a company-sponsored information session for potential job applicants and she continued receiving messages asking her for drinks afterward.
The student discussed the matter with a university counsellor, worried that refusing the invitation could hurt her chances of getting a position at the company.
The number of students asking for help over sexual harassment during their job search is increasing sharply, a career advisor at a public university told Nikkei Asian Review.
In some cases, students have been sexually assaulted. In March, a male employee of trading house Sumitomo Corp. was arrested on suspicion of raping a student after getting her drunk. The two met when the student visited the company to seek help in getting a job.
Another case involved an employee at a construction company who was arrested after allegedly assaulting a female student. The two met through an app designed to connect students and employed alumni.
Job-matching apps have grown in popularity among jobseekers in recent years. They enable students to find alumni at the companies they want to join. At the same time, more companies are adopting a recruiter system, in which recruiters contact potential applicants before formal interviews to size them up.
Companies have issued warnings and urged jobseekers to practice caution when setting meetings on these apps. App operators are trying to combat the problem as well, with one limiting meetups only with registered company-designated employees.
By law, companies are required to take measures to prevent sexual harassment in the workplace. However, the law does not cover students looking for jobs. The labour ministry is considering reviewing guidelines to urge companies to tackle the dire problem.