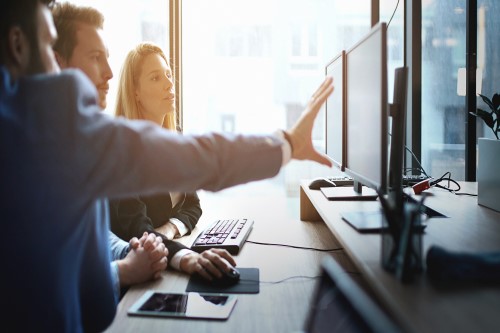 Companies with an effective rewards and recognition program in place are 15% more likely than others to use incentives and praise to bolster team performance, according to figures from the Incentive Research Foundation.
Performance management and employee motivation are so closely intertwined, especially now that the same platforms – which track performance and solicit feedback – are often integrated with tools to help managers and peers hand out rewards or praise.
Some employee engagement software platforms like Motivosity, Kudos, AwardCo, Gifted or Bonus.ly facilitate peer-to-peer recognition as well as the distribution of small tokens and gift cards for items they can redeem online or in store.
READ MORE: Why most rewards and recognition programs fail
Gone are the days when employee rewards and recognition only meant seeing names on the "Employee of the Month" section of the bulletin board – with praise unilaterally given by management.
Today, technology is changing how teams evaluate, recognize and reward a person for their contribution.
Here are five ways technology has changed the way we manage employee rewards and recognition:
Automated performance tracking
In the past, managers had to keep tabs of performance by assessing employee records manually. This meant poring over print documents from the annual/semi-annual performance evaluations one by one. These days, however, teams can turn to online surveys to collect data on employee performance and sentiment, and monitor trends more easily and consistently from a single dashboard.
Identifying top performers with broad, historical data
With the yearly appraisal now being replaced with quarterly, monthly and even weekly feedback sessions, there is now a wider set of data to use when evaluating an employee. Over time, companies are able to benchmark high performance; identify the factors that drive achievers; and understand potential challenges faced by low performers based on past data.
READ MORE: Why the annual performance review is dead
The sheer volume of diverse historical data – on both individual and team performance – being generated and tested over and over will add to a nuanced understanding of high-performing employees. This should guide managers when making executive decisions regarding human capital.
Personalized employee rewards
An in-depth understanding of individual performers – including their goals, aspirations, interests, hobbies and preferences – will enable managers to tailor their rewards. Some human capital management software even integrate machine learning to dissect the profile of the workforce and meet each employee at a personal level, whether through individual praise or a customized reward.
Social media and peer-to-peer recognition
Because of greater collaboration on team platforms, it's now easier for managers and colleagues to recognize and reward teammates on the social web, company intranet or team collaboration platforms like Slack. Co-workers can even provide peer-to-peer recognition within their team or department.
Instant rewards
The era of instant feedback requires instant rewards for a job well done. Managers and employees who wish to give a shout out to a co-worker can now go the extra mile and include a reward as a thank-you with just a few simple clicks. These rewards can come in the form of online gift cards or rewards points easily exchangeable for real-world items ranging from donuts and coffee to concert tickets and products on Amazon.