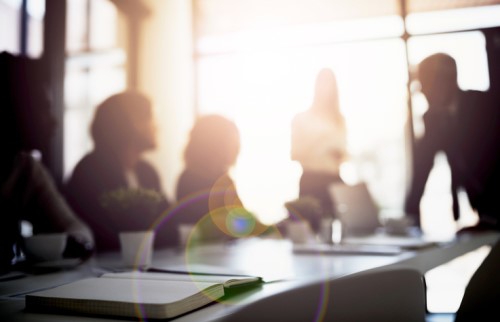 From your desktop to the conference room, Microsoft's Cortana has found a new hub in the company's futuristic meeting room.
Microsoft unveiled its state-of-the-art prototype of a collaborative space at the 2018 Build conference last month to generally positive reviews.
Industry observers are wary, however, of how in-depth and continuous the AI will listen into conversations.
The system works by serving as an extra set of eyes, ears, and hands for the staff. As the meeting progresses, every statement, project update, and file relevant to the meeting will be flashed on a large screen for everyone to follow. This is especially useful for staff with special needs.
The AI-powered meeting room features:
the virtual assistant Cortana – in the form of a black cone set in the middle of the table – which can turn ideas into action items, such as when a participant says: "I'll follow up"
a 360-degree camera for a visual of all the participants in the room
facial recognition capabilities for the AI to 'see' and greet all who are entering
a microphone that transcribes and translates statements accurately in real time, even when participants talk over each other
Surface Hub, the large touchscreen that can be mounted on a wall or on a wheeled stand where meeting notes, files, and transcriptions are flashed
other Microsoft productivity and communication tools, eg Teams, Skype and Office
an accessible and easy-to-follow interface for people with special needs
Not all meetings, however, flow as smoothly as Microsoft's demo, noted Karissa Bell of Mashable, who was given a sneak peek. Sometimes, conflict may arise.
"Every random joke, side conversation or off-topic comment can be easily captured and perfectly transcribed by an AI for anyone to see after the fact," she said.
At this point, Microsoft's meeting room is still a prototype, but advancements in AI and language processing give teams a glimpse of the future of productivity.
Related stories:
Thriving, not just surviving, in a digital age
The 'all-in-one' app transforming people management