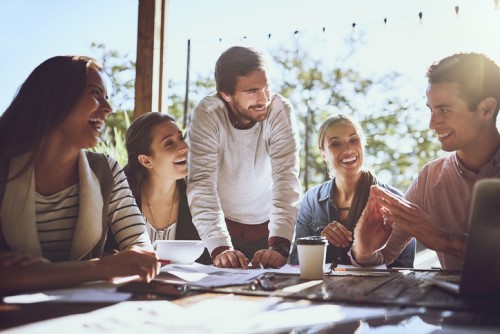 From having only four employees in 1990, Ultimate Software's workforce has grown to 4,700 – and its growth isn't simply a numbers game.
For a US software company developing HR management tools, Ultimate knows how to "walk the talk" with technology solutions that put people first.
This thoughtful approach to product development stems from Ultimate's own culture. The company is recognized as one of the best workplaces in North America.
"When we say, 'People First,' it's not just a tagline," Vivian Maza, chief people officer, told HR Tech News. "It's a mantra. It's who we are at our core."
Maza has been with Ultimate from the very beginning and is credited with engineering the team's employee experience.
Ultimate's first priority – to serve its employees – is the reason 94% of its talent stay on for the long haul. It's a feat considering how even the top companies today are struggling to find and keep employees and are reeling from a global talent war.
The HR tech company's benefits range from 100% employer-sponsored health insurance to paid parental leaves and childcare stipend, to employee volunteer support. The benefits are generous, extending from the employee to their families and communities.
"It is, and always has been, about people. From day one, we've committed ourselves to caring for all our employees, and that has enabled us to build a positive, productive culture throughout our 28-year history," Maza said.

From culture to technology
Ultimate Software has also maintained a 96% customer retention rate. The team is working to provide HR tech products that help companies put their own people first. The company believes a successful digital strategy is always built around people.
One example is Ultimate's AI platform Xander, which uses machine learning and natural language processing to analyze structured data, such as data on tenure, as well as employee sentiments.
"The key to success in using technology and data-driven insights in HR is to ensure the technology doesn't replace people, but that it assists people – helps them achieve their goals, perform at their full potential, and even go farther in their careers," said Maza.
Xander enables HR leaders to have deeper conversations and "get to the heart of how employees are feeling and hear what they're really saying," the CPO said. HR leaders can "take more effective action to address any concerns, uncover new opportunities, and further build upon existing strengths" of the workforce.
"With this greater insight, organizations have more reliable information and can focus their attention on their people, have those meaningful interactions with employees, and better connect on a human level," she said. "It's technology working alongside – not against – HR, to provide an even greater experience for every person."
As a company's culture "sets the tone" for how people feel about and within that environment, a company's choice of HCM software can have a "major impact on employees' day-to-day experiences and the work they do – no matter their individual roles," Maza said.
HR Tech News is asking HR professionals to share insight into the key issues relating to HR technology. What area of HR technology do you find most complex, challenging or interesting? Have your say here.