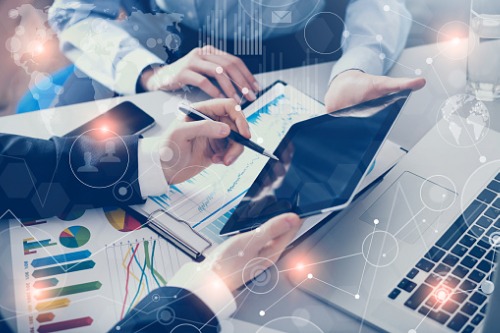 There's software for getting core HR tasks done – and there's software for advancing cutting-edge HR strategy.
This is the difference between conventional HR information and HR management systems (HRIS or HRMS) and the more advanced human capital management (HCM) platforms of recent years.
HRIS vs HRMS vs HCM software
Most HRIS and HRMS options are designed to solve specific types of problems, such as employee records management, payroll processing, and benefits administration, among other tasks.
The most popular software-as-a-service solutions integrate a combination of functions and automate some of the more time-consuming routines such as checking attendance, managing leave, or calculating pay.
READ MORE: All-in-one HCM or Point solution software?
All-in-one HCM software, on the other hand, not only handles a wide range of basic HR tasks but also delves deeper by measuring data on organizational and individual performance, employee sentiments, and even everyday activities in the company.
HCM suites as business intelligence software
From understanding how employees communicate and interact with each other in their workspace, to identifying which individuals are ripe for a promotion or salary increase – people managers will find the top HCM platforms offer data analytics tools and act as a single source of truth.
Ultimate Software, for instance, enables various departments to gain visibility into their human capital by accessing employee data from the same HCM platform as HR.
Case in point: finance departments can create detailed reports on labor costs without having to ask HR to compile relevant workforce data in separate spreadsheets.
In an era where organizations are constantly generating Big Data across different areas of business – not the least of which, human capital management – it's no surprise HR software is transforming into a dependable business intelligence tool.
One area that benefits from analytics is succession planning. HCM software specialist Kronos, for instance, provides clients with more than 100 configurable charts and metrics that deliver a comprehensive vision of their current and future talent needs.
Whereas traditional HRIS/HRMS keep a record of the performance, projects, goals, behavior, attitude, and development feedback of employees all in one database, HCM platforms go the extra mile to capture data trends: what employees do or don't do; how they feel; what they think about their role, technology, projects, colleagues, managers and the organization.
From these data points, people managers, workforce analysts and department leaders can revaluate their human capital needs, tap into high-performing members and even identify flight risks.
HCM software and the 'talent experience'
Choosing the right HR software isn't simply a matter of selecting whichever platform integrates and automates the most number of functions. The focus of HCM software is to make life easier for HR and, more importantly, for employees.
"Looking back, we've come a long way from 'integrated talent management,' which was entirely focused on the needs of HR," writes industry analyst Josh Bersin on disruption in the HR technology market. Bersin recently headlined the HR Tech Summit in Toronto where he tackled emerging tech and the future of work in his keynote address.
"Now we are focused on employees, and how we make their work and personal lives better. Hence a focus on 'talent experience,' not 'talent management.'"
The pressure for employees to perform in today's demanding environment has forced HR to take a good hard look at the employee journey, and to examine whether their technology suite copes with employee and business demands.
READ MORE: The hottest HR tech investments of 2019
With the rise of cloud and mobile technologies, HCM platforms have become more nimble and user-friendly: easy to configure to the needs of the worker, easy to access on demand and on any device.
One example is how Workday enables its clients' workers to account for overtime through mobile. Employees, for instance, can enter their extra hours of work on the app up to three days before the payroll cut-off. With overtime pay reflected quickly in their next pay check, the interface gives users greater control as well as accountability for their work and ability to earn.
Ceridian, on the other hand, has introduced a conversational component to its platform: it allows workers and managers to pull up data and manage requests using voice and chat commands. The tool functions like Siri, Alexa or Google Assistant for HR.
Bersin, in his analysis, writes: "If employees don't find the work experience compelling, they complain, gripe, post something online, or just quit. We have to upgrade all of HR (software and practices) so it's useful, productive, and meaningful."
Curious about the world of HR tech and the future of work? Join industry leaders at the HR Tech Summit New York on November 6. Book tickets now.