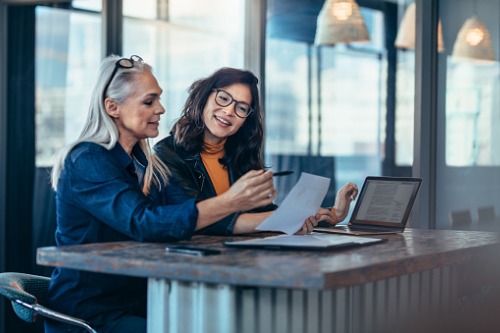 by Lisa Sterling
Women's Day and Equal Pay Day aren't just dates we mark on our calendars. As Lisa Sterling of Ceridian writes, these milestones unmask the inequalities women continue to face
The issues of gender equality, parity, and balance in the workplace are finally gaining the serious attention they deserve – and rightfully so.
How did we get to this point, and what can organizations do to make meaningful progress toward a gender balanced workplace?
What #BalanceForBetter truly means
A balanced workplace results in a better workplace for all of us.
This year's International Women's Day theme, #BalanceForBetter, highlighted that when we achieve gender equality, we create a better society for everyone. Striving for gender balance is not just about repackaging the same ideas under a new and clever slogan.
The theme speaks to the evolution of gender politics in the workplace and captures where we are in 2019: a place where we can translate decades of hard work and awareness for gender equality and parity into meaningful action.
1. Act now
How do we solve gender imbalance in the workplace? While conversation is critically important, let's pause on the long discourses, studies, and panel discussions, and start taking measurable, immediate steps. Actionable strategies, policies and programs are crucial for change.
For positive change to happen, leaders need to have the courage to ask difficult questions, and be comfortable with transparency. Successful organizations choose to empower their people to think critically and act strategically when resolving gender imbalance. For example, if a gender pay gap is exposed, organizations need take the necessary actions to correct it.
For a business to truly be an advocate for gender balance, parity, and equality, it must be ready to go beyond values and mission statements and make changes that will yield measurable results.
It is also important to remember, when it comes to gender pay audits, companies need to move from a reactive position to a proactive position to be true leaders in this space.
2. Get smart support
Before you can take decisive action, you first need to find out where your organization stands when it comes to gender balance and parity.
So how do you go about doing this?
The most progressive organizations use technology to access data from across human capital management to make informed decision-making, analyze this data and identify any pay gaps. These software programs enable leadership to review compensation trends, based on gender pay equity data, and take the necessary steps to change course if gaps are identified.
Beyond self-evaluation, organizations can engage third-party experts to further establish their commitment to gender balance in the workplace. These experts will not only evaluate where you are now, but also keep your company accountable well into the future.
At Ceridian, we knew we were on the right path, yet we still acknowledged we could – and must – do better.
Last year, we chose to proactively undertake a comprehensive analysis with Economic Dividends for Gender Equality or EDGE, the leading global and business certification standard for evaluating corporate commitment to gender equality.
We became EDGE-certified in 2018 and will continue to partner with them to become even better at helping women grow their careers in technology – an area we are passionate about.
3. Update outdated programs
Once audits have been completed and gender pay gaps are resolved, ensure you evaluate other key areas that affect women in the workplace beyond equal pay.
Make parental leave policies more equitable and fair. Create mentorship opportunities, and even better, sponsorship programs to encourage the career growth for top female talent in your organization.
Make sure your workplace culture is flexible, inclusive and positive. One where people feel you trust them to do their jobs well. Seamlessly blending work and personal life in a way that keeps everyone happy will benefit the whole organization.
The bottom line
To recap, set ambitious targets, audit your company's data, be transparent about where you stand, and work with third-party organizations that specialize in gender equality to give you the tools you need to start achieving measurable change.
Only then will you truly be an advocate, and in a position to encourage other organizations to strive for gender balance in the process.
Lisa Sterling is Executive Vice President and Chief People & Culture Officer of HCM software company Ceridian